I like going for walks with my girl and taking my camera with me. I don't force it, but if I find anything that interests me, I snap a photo of it.
I listen to my girl ramble on about bugs, sticks, leaves, flowers, whatever she's thinking about at that moment. I like seeing the world through her eyes, gives me a different perspective on things.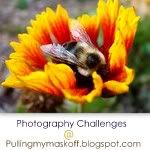 If I don't take even one picture that's okay, I still spent some time with my little girl while she explores her world. I have to trust my memory, can't let the camera do the work all the time.