Oh boy, I've been bad, really bad. Really, really bad. No exercise for weeks, eating food I probably shouldn't (like pizza, lots of pizza). I think my weight is about the same as the last time, maybe a pound more, not sure. Too afraid to go to the gym and weigh myself. I would weigh myself at home but the scale lies to me, it says I'm a few pounds lighter than I really am (which in theory sounds awesome but pretty devastating when I land on a real scale).
I could blame the crappy cold weather for not exercising but really there is no one to blame but myself and my lazy butt (which is in desperate need of some squats right now).
So this is my check-in, a promise to make it to the gym, hop on the elliptical, do squats, weights, somersaults...etc., eat healthy and log in my cals again, it was working out great before. Oh, and if anybody has any cost efficient recipes that are also healthy please send them my way, money is real tight right now, which is why I've been eating pizza. My husband works at a pizza shop and can bring pizza home for free, quite non-expensive but not very good to my waistline.
Self-Portrait: Focus and Bokeh
Ok, still don't have a tripod or wireless remote yet, but that's okay, just had to prop my camera on my coat, use the self-timer, and run!
Different View/Perspective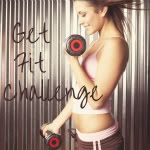 I must have looked crazy running back and forth trying to get a shot I liked. My daughter, however, thought I was being hilarious and playing some sort of silly game of running back and forth, so she decided to join in and be "just like mommy". Such a little monkey.