I was pretty sick with the flu/cold bug earlier this week, yuck. Then I went to the doctors for a good lady-type check-up and received the tetanus/pertussis shot, which
completely
wiped me out, I felt like I ran a marathon or something (ok, never have ran a marathon, but I was pretty exhausted). But it was a good thing to get because of the pertussis outbreak going on right now and I didn't want to have to get it if I became pregnant sometime later this year.
So exercise this week, nada. I did try to make healthier choices with eating/portion size, and at my weigh-in this week at the doctors the scale read 130.8 lbs
(almost -7 lbs since started)
, which has been the same for about a month. So at least I haven't gained any weight, I'm pretty stoked about that! And that big belly bulge I used to have is gone. My stomach definitely isn't perfect, but it's much better than it used to be.
This DVD should be arriving for me in the mail via Netflix, and if anybody can kick my butt, Jillian Michaels can. I love her and fear her at the same time. I'll let you know next week how this goes.
Self Portrait:
The Fan
Ok, this was much harder than I thought. I really liked how they turned out, but you can barely tell that the fan was literally inches from my head except for the little wispies blowing on the top.
So it was time to bring out the big guns:
I ran to get my trusty ol' blow dryer and finally...big hair!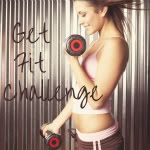 And of course Lucy had to help mommy get ready for her little photo shoot.