We had so much fun these past few days, and luckily it stayed dry Sunday and even Monday, crazy! We were even able to walk around with our coats off for a bit. Lucy had fun bossing her aunts and uncles around while we were visiting my family, and I think they even enjoyed it a bit. She is very bossy I'm afraid, need to work on that.
Pink
Multicolored
Here's a shot of just a few of my brothers entertaining Lucy, she just loves playing with her uncles! And rocks. And dirt.
Siblings
Okay, don't have any pets, but does this shot count? My dad has two bird feeders and I think a hummingbird feeder too, can't wait to get some shots of hummingbirds. Maybe on my next visit.
Pets
Love this shot I was able to capture of Lucy having fun with Daddy. Entering last two shots in the portrait contest @ (life is too short not to) wear red shoes.
Portraits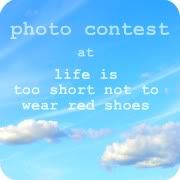 Yesterday and today has been cold, cloudy, and rainy. Very sad. Hopefully it will warm up later this week. I'm very tired of the cold.